It's Tuesday, which means it's time for new books! Here are a few of the books out today you should add to your TBR. This is a very small percentage of the new releases this week, as well as a few others you may have missed from recent weeks. Make sure to stick around until the end for some more Book Riot resources for keeping up with new books. The book descriptions listed are the publisher's, unless otherwise noted.
C. L. Polk turns their considerable powers to a fantastical noir with Even Though I Knew the End.
A magical detective dives into the affairs of Chicago's divine monsters to secure a future with the love of her life. This sapphic period piece will dazzle anyone looking for mystery, intrigue, romance, magic, or all of the above.
An exiled augur who sold her soul to save her brother's life is offered one last job before serving an eternity in hell. When she turns it down, her client sweetens the pot by offering up the one payment she can't resist ― the chance to have a future where she grows old with the woman she loves.
To succeed, she is given three days to track down the White City Vampire, Chicago's most notorious serial killer. If she fails, only hell and heartbreak await.
Reasons to read it: Polk is serving up hardboiled noir for the sapphic girlies, and I am super here for it. With its lesbian speakeasies and other aspects of 1940s Chicago queer life, Polk is also giving a glimpse of what it was like for queer people in the time and area. And then there are the demons! This one reminds me a little of Last Night at the Telegraph Club with a dash of A Master of Djinn. Author Laini Taylor said it's "Stylish supernatural noir with a heart and a thrumming pulse. I devoured it."
"Wicked fun, devilishly clever, with echoes of Agatha Christie." ―Patricia Cornwell, #1 New York Times bestselling author
At midnight, one of them is dead. By morning, all of them are suspects.
It's the party to end all parties…but not everyone is here to celebrate.
On New Year's Eve, Rhys Lloyd has a house full of guests. His vacation homes on Mirror Lake are a success, and he's generously invited the village to drink champagne with their wealthy new neighbors.
But by midnight, Rhys will be floating dead in the freezing waters of the lake.
On New Year's Day, Ffion Morgan has a village full of suspects. The tiny community is her home, so the suspects are her neighbors, friends and family ― and Ffion has her own secrets to protect.
With a lie uncovered at every turn, soon the question isn't who wanted Rhys dead…but who finally killed him.
In a village with this many secrets, murder is just the beginning.
Reasons to read it: Come for the procedural mystery, stay for the small Welsh town setting, Mackintosh's atmospheric writing, engaging twists, and Ffion's character. This is a psychologically thrilling read that'll have you turning pages and gasping into the wee hours of the morning.
The powerful sequel to the instant New York Times bestselling and award-winning Legendborn — perfect for fans of Cassandra Clare and Margaret Rogerson!
The shadows have risen, and the line is law.
All Bree wanted was to uncover the truth behind her mother's death. So she infiltrated the Legendborn Order, a secret society descended from King Arthur's knights — only to discover her own ancestral power. Now, Bree has become someone new:
A Medium. A Bloodcrafter. A Scion.
But the ancient war between demons and the Order is rising to a deadly peak. And Nick, the Legendborn boy Bree fell in love with, has been kidnapped.
Bree wants to fight, but the Regents who rule the Order won't let her. To them, she is an unknown girl with unheard-of power, and as the living anchor for the spell that preserves the Legendborn cycle, she must be protected.
When the Regents reveal they will do whatever it takes to hide the war, Bree and her friends must go on the run to rescue Nick themselves. But enemies are everywhere, Bree's powers are unpredictable and dangerous, and she can't escape her growing attraction to Selwyn, the mage sworn to protect Nick until death.
If Bree has any hope of saving herself and the people she loves, she must learn to control her powers from the ancestors who wielded them first — without losing herself in the process.
Reasons to read it: This sequel to Legendborn is a bit more mature than the first in the series. Fans of the first book can expect a Bree with as much determination as before, accompanied by a more complex storyline that juxtaposes showing the horrors of racism with an explosive Arthurian retelling.
Love isn't always by the book in this charming romantic comedy about a bookseller discovering how to be the main character in her story.
As a self-proclaimed book hater and a firm believer that the movie is always better, Drew Young didn't anticipate inheriting her grandma's bookstore, the Book Nook. She's in way over her head even before the shop's resident book club, comprising seven of the naughtiest old ladies ever, begin to do what they do best — meddle.
Bestselling author Jasper Williams is a hopeless romantic. When he meets Drew at his Book Nook signing event, he becomes determined to show her the beauty of reading. He curates a book bucket list in exchange for her help exploring the local Denver scene for his current manuscript. From going river rafting to trying local restaurants, Drew begins to connect with Jasper in a way she only thought happened in fiction.
When messy family ties jeopardize the future of the Book Nook, Drew is caught between a bookshelf and a hard place. She's reminded that real life isn't always big dreams and sweeping romance. But Jasper is the plot twist she never saw coming and he's writing a happily ever after just for them.
Reasons to read it: Bookloving main characters in novels are understandably common, but it's nice to see this trope flipped with the book-hating Drew. And I will always be here for a book club called "The Dirty Birds" full of meddling and eccentric older ladies. This promises to be the perfect grumpy/sunshine contemporary romance that's sexy and fun, even as it grapples with grief and complicated family dynamics.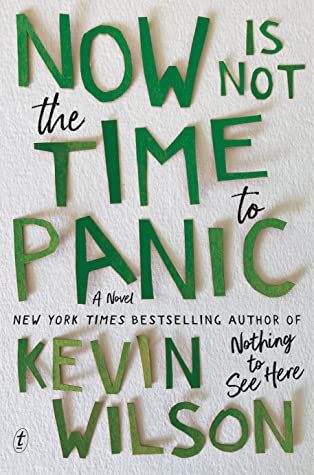 An exuberant, bighearted novel about two teenage misfits who spectacularly collide one fateful summer, and the art they make that changes their lives forever
Sixteen year old Frankie Budge — aspiring writer, indifferent student, offbeat loner — is determined to make it through yet another summer in Coalfield, Tennessee, when she meets Zeke, a talented artist who has just moved into his grandmother's house and who is as awkward as Frankie is. Romantic and creative sparks begin to fly, and when the two jointly make an unsigned poster, shot through with an enigmatic phrase, it becomes unforgettable to anyone who sees it: "The edge is a shantytown filled with gold seekers. We are fugitives, and the law is skinny with hunger for us."
The posters begin appearing everywhere, and people wonder who is behind them and start to panic. Satanists, kidnappers — the rumors won't stop, and soon the mystery has dangerous repercussions that spread far beyond the town.
Twenty years later, Frances Eleanor Budge gets a call that threatens to upend her carefully built life: a journalist named Mazzy Brower is writing a story about the Coalfield Panic of 1996. Might Frances know something about that?
A bold coming-of-age story, written with Kevin Wilson's trademark wit and blazing prose, Now Is Not the Time to Panic is a nuanced exploration of young love, identity, and the power of art. It's also about the secrets that haunt us — and, ultimately, what the truth will set free.
Reasons to read it: This coming-of-age turned of-age story has such well-written characters and subverts stereotypes of artsy, anti-establishment teenagers. Instead, it offers up an endearing and understated take on the power of art with a little teen angst thrown in.
Flight by Lynn Steger Strong
"Arresting and powerful, Flight examines the possibility and pain of fierce love and hope in our time of looming existential threats." — Lily King, New York Times bestselling author of Writers & Lovers
"Suspenseful, dazzling and moving." — Rumaan Alam, New York Times bestselling author of Leave the World Behind 
It's December 22nd and siblings Henry, Kate, and Martin have converged with their spouses on Henry's house in upstate New York. This is the first Christmas the siblings are without their mother, the first not at their mother's Florida house. Over the course of the next three days, old resentments and instabilities arise as the siblings, with a gaggle of children afoot, attempt to perform familiar rituals, while also trying to decide what to do with their mother's house, their sole inheritance. As tensions rise, the whole group is forced to come together unexpectedly when a local mother and daughter need help. 
With the urgency and artfulness that cemented her previous novel Want as "a defining novel of our age" (Vulture), Strong once again turns her attention to the structural and systemic failings that are haunting Americans, but also to the ways in which family, friends, and strangers can support each other through the gaps. Flight is a novel of family, ambition, precarity, art, and desire, one that forms a powerful next step from a brilliant chronicler of our time.
Reasons to read it: This doesn't have quite the coziness that's come to be assocatied with holiday books, but its moments of bonding and tenderness between family members is comforting nonetheless. With Strong's prose and the number of realistic characters, Flight is the kind of book to pick up when you want a little taste of family drama.
Other Book Riot New Releases Resources
All the Books, our weekly new book releases podcast, where Liberty and a cast of co-hosts talk about eight books out that week that we've read and loved.
The New Books Newsletter, where we send you an email of the books out this week that are getting buzz.
Finally, if you want the real inside scoop on new releases, you have to check out Book Riot Insiders' New Releases Index! That's where I find 90% of new releases, and you can filter by trending books, Rioters' picks, and even LGBTQ new releases!
About Author