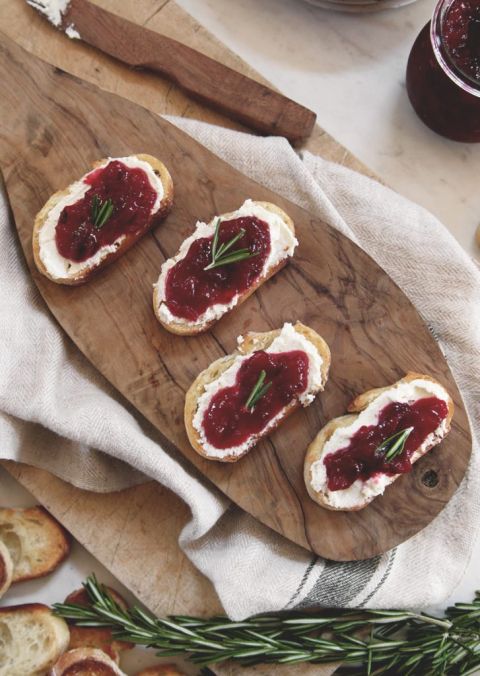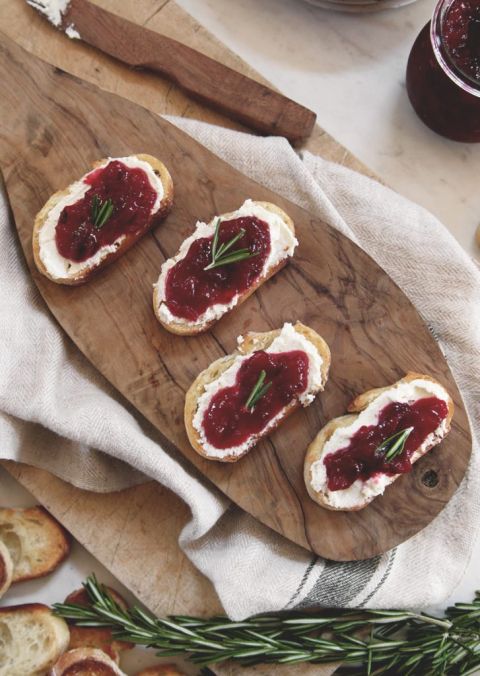 These cranberry whipped feta crostini are a perfect holiday appetizer! At first I was thinking Thanksgiving when I thought of these, because of the cranberries. Then while I was setting it up to photograph, I added some rosemary garnish, since there's rosemary in the cranberry sauce, and I realized how nice they looked for Christmas too!
We obviously have a thing for crostini. We've shared so many recipes for them over the years. And these cranberry whipped feta crostini are so good! The sweet and slightly tart cranberry sauce pairs perfectly with the creamy, tangy whipped feta! (I also have a thing for whipped feta). It's great for holidays because you can make both the cranberry sauce and whipped feta ahead of time. Then it's just a quick assemble for putting these together!
Like the cranberry brie tartlets we shared years ago, if you're going to be making cranberry sauce for Thanksgiving, this appetizer is perfect because you're making cranberry sauce for it, so you can just double up (or more) to make your side dish as well as an appetizer. Or if you have leftover cranberry sauce from Thanksgiving dinner, this is a great way to use it up!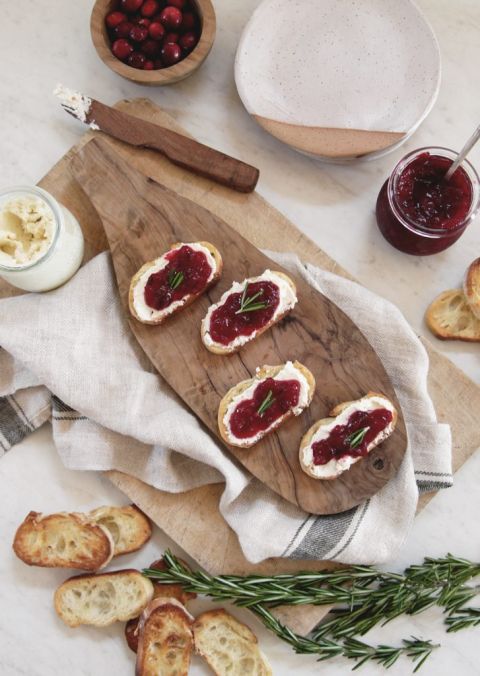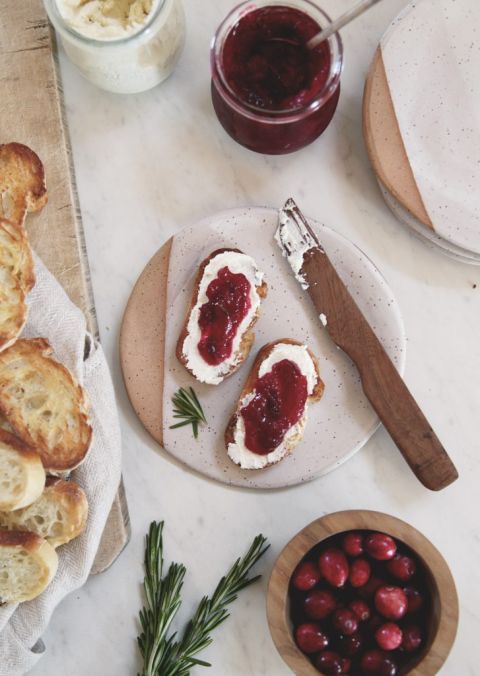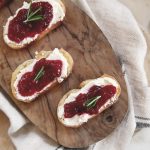 Cranberry Whipped Feta Crostini
Homemade cranberry sauce paired with creamy whipped feta on top of a crispy crostini. A perfect holiday appetizer!
Ingredients
Cranberry Sauce
1/4

cup

fresh squeezed orange juice

1/4

cup

water

1/3

cup

sugar

1/2-1

tablespoon

fresh rosemary, chopped (optional, feel free to leave out if you're not a fan of rosemary)

6

ounces

(almost 2 cups) fresh cranberries
Whipped Feta
6

ounces

crumbled feta

2

ounces

cream cheese, softened

2

tablespoons

olive oil

fresh ground salt & pepper to taste
Crostini
baguette, sliced and lightly toasted
Instructions
Cranberry Sauce
Bring orange juice, water, sugar and rosemary to a boil in a medium saucepan, stirring occasionally.

Add cranberries and return to a boil. Reduce heat and boil gently for 10 minutes, stirring occasionally.

Remove from heat, side aside to cool.
Whipped Feta
In a food processor, whip together feta, cream cheese, olive oil and salt & pepper.

Blend until smooth and creamy (drizzle in more olive oil if you'd like a creamier consistency), about 3-5 minutes, scraping the sides of the bowl as needed.
Assemble Crostini
Spread whipped feta on lightly toasted baguette. Top with cranberry sauce. Garnish with sprig of rosemary if desired. Serve immediately.
Notes
Both the cranberry sauce and whipped feta can be made ahead of time and stored (separately) in the fridge. The cranberry sauce just gets better after sitting a day or two!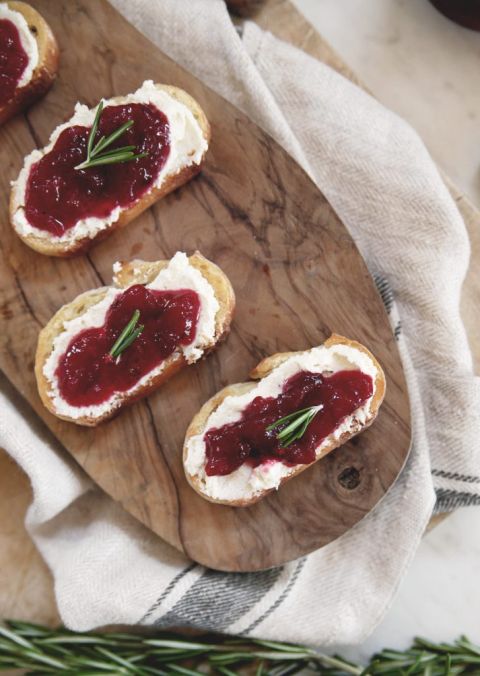 You can find more Thanksgiving craft and food inspiration here.
-Manda
The post Cranberry Whipped Feta Crostini appeared first on The Merrythought.
About Author