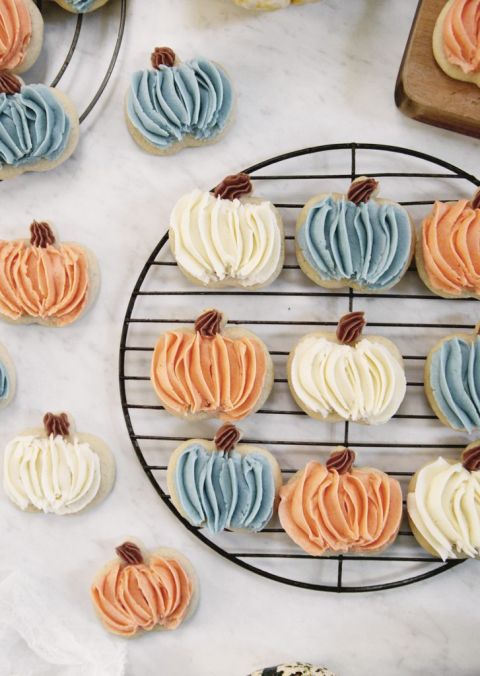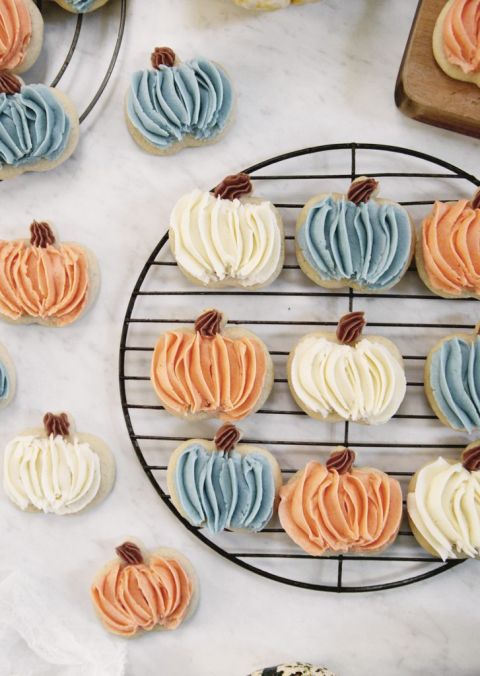 Frosted cut out sugar cookies are one of my favorite cookies! And these frosted pumpkin sugar cookies are a perfect dessert for fall and Halloween! I use my Gramma's recipe for the cookies, which I think is the best. They're soft and chewy and taste amazing. And then I top them with buttercream frosting and it's heavenly. I usually only make these kind of sugar cookies for special occasions. I've been wanting to try making these frosted pumpkin sugar cookies with the piped frosting for a while. I've seen them on Pinterest as cupcakes, but decided to try it out on sugar cookies instead.
I love how they turned out and personally, I think piping frosting onto cookies is so easy! (It can be a little tedious frosting each cookie by hand with a frosting spatula). Piping frosting just seems like a quick way to get a beautiful result!
These are a bit more work, with all of the rolling and cutting out and then frosting. But they are so worth it! Also, this recipe does require chilling the dough for a bit, so you need to plan for that. The recipes for the cookies & frosting are below, and there's a video below showing how to easily pipe these frosted pumpkin sugar cookies!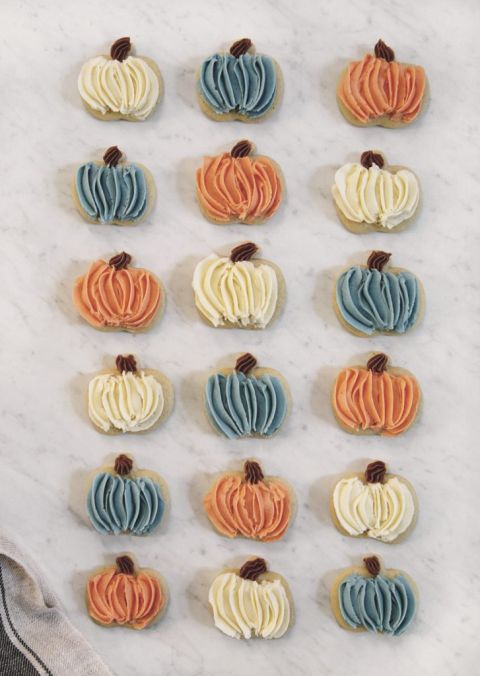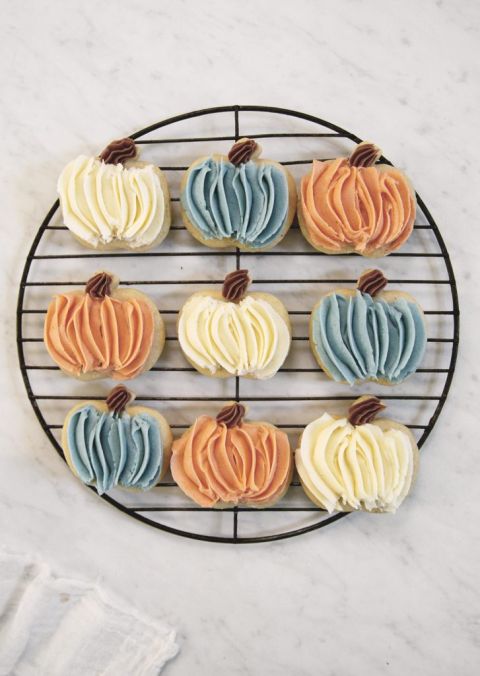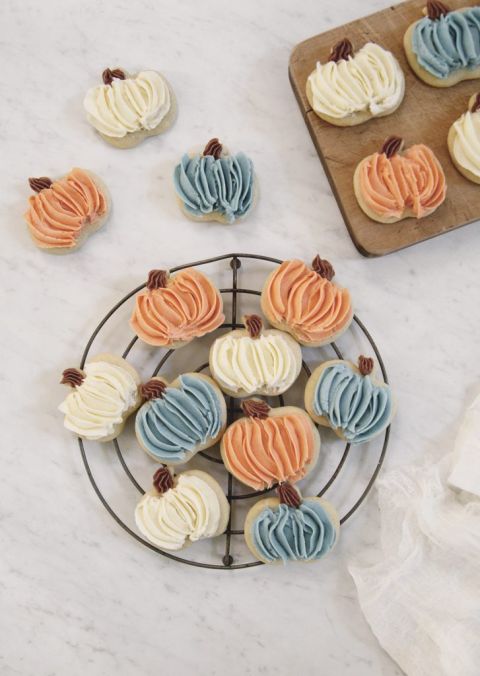 What you need:
cut out sugar cookie dough (recipe below)
buttercream frosting (recipe below)
food coloring (I use gel food coloring)
parchment paper
cookie sheets (I love these extra large ones)
Watch the video to see how to make these: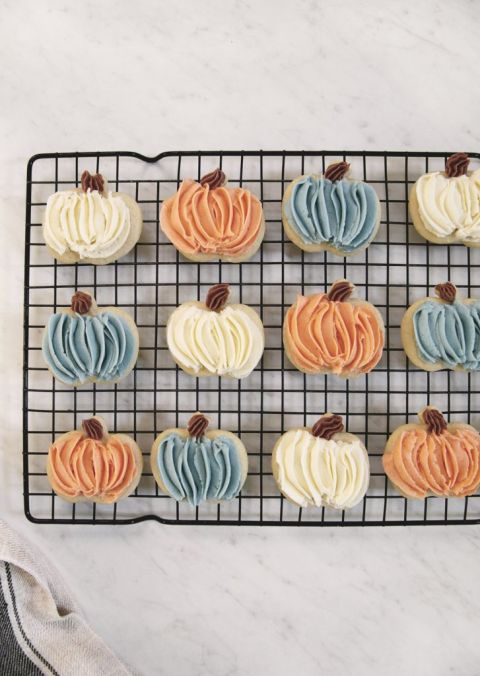 Frosted Pumpkin Sugar Cookies
Soft and chewy, and able to hold their shape well, these are the best cut out sugar cookies! **This dough does need to chill for a bit, so plan for that when making.**
Ingredients
1/2

cup

(1 stick), unsalted butter, room temperature

1

cup

sugar

2

eggs

1/2

teaspoon

baking soda

1/4

teaspoon

salt

1/8

teaspoon

ground nutmeg

1/2

teaspooon

pure vanilla extract

1/2

cup

sour cream

2-1/2

cups

all purpose flour
Instructions
In a large mixing bowl, cream together the butter and sugar until light and fluffy, about 3 minutes.

Add in the eggs, beating well.

Mix in the baking soda, salt, nutmeg and vanilla and stir until combined.

Alternately, add the sour cream and flour until mixed in.

Cover & chill dough, at least one hour or overnight.

Line baking sheets with parchment paper.

On a large, floured surface, roll out dough about 1/3 of the dough at a time, to about 1/4 inch thickness.

Cut out dough with cookie cutters and place on prepared cookie sheets.

Bake 7-9 minutes, just until the cookies are cooked through – but not browned.

Allow to cool for a few minutes on the baking sheet, then transfer to a wire rack to cool completely.
Notes
Tips:
Don't over bake your cookies – that is the key to the best cookies!
If you are going to double this recipe, use just 3 eggs total. (Doubling makes a ton of cookies, but that's the way my Gramma's recipe was written out).
It's best to chill the dough overnight if possible. The longer it chills, the easier it will be to work with. (Although if it's super chilled, you are going to need to let it sit out at room temperature for a little while so that you can actually roll it out).
While rolling & cutting the dough, I keep my "scraps" that I am going to roll out again in a bowl in the fridge. Slightly chilled dough works best!
Buttercream Frosting
Ingredients
1

cup

(2 sticks) unsalted butter, room temperature

4

cups

powdered sugar

1/4

cup

milk

1

teaspoon

pure vanilla extract
Instructions
In the bowl of an electric mixer fitted with the paddle attachment, cream butter until smooth and creamy, 4-5 minutes.

Add one cup of powdered sugar, mix on medium speed until combined.

Add another cup of powered sugar, mix on medium speed until combined.

Add milk and vanilla; mix on medium speed until combined.

Add remaining two cups of powered sugar, one cup at a time, mixing after each addition.

Mix frosting on medium speed for 2 minutes.

Scrape down the bowl as needed, and check consistency of frosting. If it's too thin, add a little more powered sugar; if it's too thick, add a little more milk.

Once it's the right consistency, mix frosting on medium speed for another minute or two, until very light and fluffy.

Add coloring, if desired.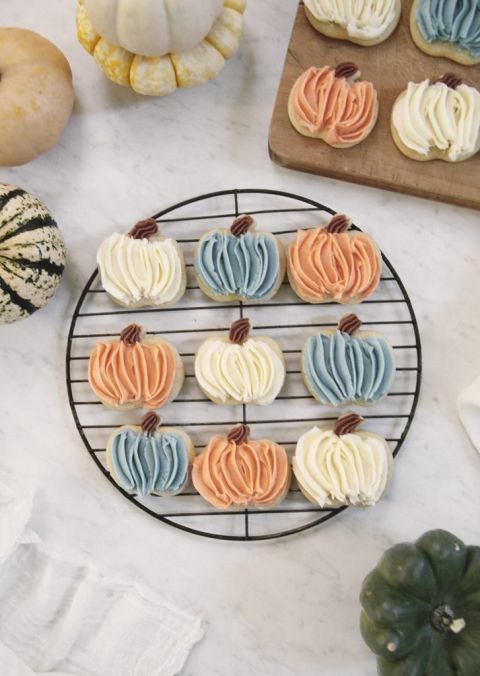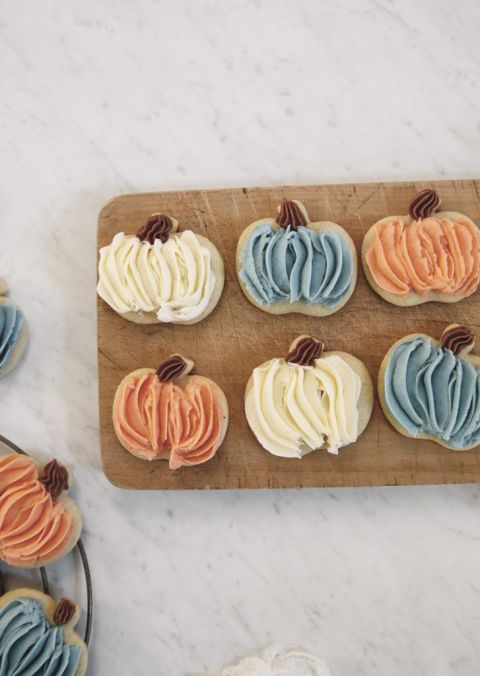 You can find more delicious cookie recipes here and more fall/Halloween inspiration here.
-Manda
The post Frosted Pumpkin Sugar Cookies appeared first on The Merrythought.
About Author